Cloud, Cloud and more Cloud – it's a pretty common term now in business and is becoming just as common at home.  Cloud storage is a big market and Microsoft OneDrive has been around for a while, formally SkyDrive but essentially the same service.  Cloud drive providers are now popping up all over the place but OneDrive in my opinion remains one of the best.  With very little effort, you can setup a free 15GB account.
I use both a NAS (Network Attach Storage) drive and a small server for hosting services such as iTunes.  I've managed to upgrade my OneDrive disk space to 30GB by enabling my camera roll and wanted to be able to sync my network drive data with the cloud.
Since writing this guide it's become apparent that real time sync programs are not without their challenges. I've written an updated guide on Using SyncToy to Sync NAS with One Drive  that you may find useful.

It may also be worth noting that with a recent firmware update, the latest range of Seagate Personal Cloud devices have a native OneDrive app that can apparently allow you to sync directly from your NAS drive.
Home Network Topology with OneDrive
Before we start, let's take a look at a simple topology diagram of my home network.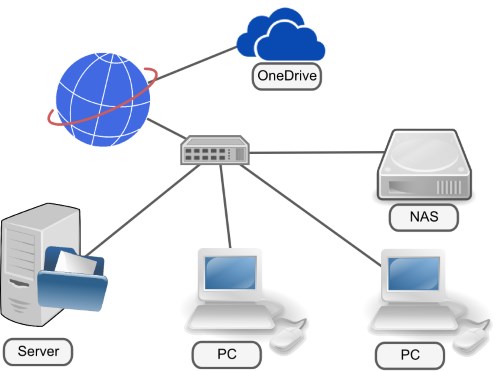 As you can see, I use a couple of PC's and a Server – all of which use the Seagate Central NAS 2TB drive as the main file storage.  This has since been replaced by Seagate's new Personal Cloud Home Media Storgage NAS
The server runs a number of applications such as iTunes and Print Sharing but relies on the NAS for any File Sharing.
Guide Objectives for Syncing Data from NAS to OneDrive
These are the objectives for this guide:
Sync N:\Data (My mapped NAS location) with OneDrive
Sync automatically and use real time updating, none of this task scheduler rubbish!
Ensure the Sync is a true two way process to capture any changes on either the NAS or OneDrive
Costs nothing
How to Sync Your NAS Drive with OneDrive
There are a number of guides discussing how to use Symbolic Links as the OneDrive local folder and trying to trick it into using the link as a real drive,  but OneDrive now appears to recognise these methods and prevents using them.  You can still get around this by using the Symbolic link as a sub folder of the OneDrive folder, or use an additional tool to keep your NAS and local OneDrive folders in syc.
Method 1: Symbolic Link Sub Folder
This solution was actually much simpler than I thought.  Essentially you install the OneDrive desktop application on the Server and point it at a folder you can locate easily, for example C:\OneDrive
The OneDrive desktop application will then sync this empty folder with the cloud.  If you've already got data on OneDrive, you may need to give this stage time to complete before you continue – how much will depend on your internet connection and of course the amount of data already on OneDrive.
The next step is to create a Symbolic Link from within your OneDrive folder and point it at your NAS drive.  If you'd like to read more about Symbolic Links in general I'd recommend this article.
In this case, I only wanted to sync the contents of N:\Data where N: is the drive letter that maps to my NAS.
I used the following command to create a Symbolic link within C:\OneDrive that pointed to N:\Data called Data.  This uses a Microsoft tool called mklink which is included with all Windows operating systems since Vista.
From a command prompt, enter:
[sourcecode language="plain"]
mklink /d data n:\data
[/sourcecode]
What this essentially does is creates a fake subfolder called C:\OneDrive\Data which actually points across the Network at N:\Data.  If you look within the C:\OneDrive folder, you will see what looks like a shortcut icon – clicking on it should take you to your network drive.
OneDrive will then treat this as a normal folder and sync it's contents meaning you will now have a Data folder appear on your OneDrive that will be in Sync with your NAS drive.  Admittedly, this means that only content withing N:\Data or OneDrive\Data will be Synced, but this gives me the flexibility I need to choose what I want in the cloud.
Obviously having a server always running helps keep this process running nicely, but it would work just as well from your desktop – it would just mean that it would only sync while it was turned on.
Method 2: Use a tool such as FreeFileSync
If you don't want to rely on the OneDrive client being able to pickup changes from the Symbolic link – after all we're essentially tricking the OneDrive client into beleiving it's a real folder so mileage may vary especially over time, there are a number of tools that are able to keep folders in sync. One which does this very well and in real time (remember our objectives) is an amazing free tool called FreeFileSync.
Essentially you setup in the same way as the Symbolic Sub Folder approach above, but instead of using a Symbolic link you use FreeFileSync to keep the C:\OneDrive folder in sync with N:\Data.
You can export your settings as a Batch File and then use the included RealtimeSync program to watch for changes and when it spots any at either location – run the batch file you created.
Introducing an additional program into the solution does make things a little more complex to initially setup and maintain – but it's worth noting that as long as you find a way to keep your local OneDrive folder in sync with your NAS drive location – the OneDrive client does a pretty good job of the rest.
Testing the Sync between Your NAS Drive and OneDrive
Testing should be easy enough to do.
Once the first sync has completed (you can tell this by looking at the one drive icon)
If it looks like this with the animated bar moving below it:

It's still busy syncing.  Go grab a coffee, or take a walk – perhaps even call an old friend you haven't spoken to in a while and say hi.
But If it looks like this:

You're good to go – your old friend can wait.
To test, I'd recommend creating a Folder within your NAS drive called something like LocalTest.  Give it a few moments to sync then access your OneDrive through a browser, if the folder is showing – you're good to go.  To ensure the Sync is working both ways, it might also be worth creating a CloudTest folder within your OneDrive account through a browser and watching for it syncing back to your NAS drive.
If both of these are working, congratulations – you are in sync!
Conclusion
I'd say we've hit our objectives.  You should now have an automatic Sync between your NAS drive and OneDrive that cost you nothing other than a little time.  Good job!
I hope you find this short guide useful, it's certainly made my life a bit easier.
If you've got any thoughts or questions, particularly on the setup of FreeFileSync please post them in the comments below.  Thank you for reading.
Since writing this guide it's become apparent that real time sync programs are not without their challenges. I've written an updated guide on Using SyncToy to Sync NAS with One Drive  that you may find useful.