If you are getting the occasional black screen when using an NVIDIA graphics card and switching between applications, usually the browser – this may well be the guide for you. I have noticed this issue a few times with recent NVIDIA Driver versions, the latest being 466.11. It can be very frustrating when switching between applications to have a second or two where the monitor just goes black. I have tested this fix using my RTX 2060 and it's working perfectly now, if there are any long term issues I notice I'll be sure to post them in the comments.
I've posted two versions of the guide, one as a short YouTube video on my YouTube Channel and one in written form here on the blog.
Video Guide
Watch the YouTube video Guide on how to fix the black screen using NVIDIA Control Panel.
Written Guide
To fix the black screen using NVIDIA Control Panel, do the following.
Open the Nvidia Control Panel by either Right Click on Desktop and Click on NVIDIA Control Panel or Click the NVIDIA Control Panel icon from the task tray in the lower right of your screen.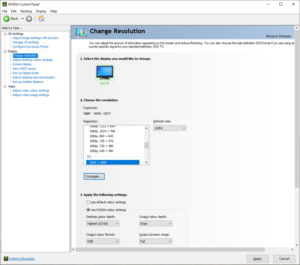 Click on Adjust Desktop Colour Settings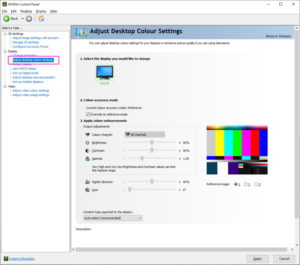 Click on Content Type Reported to the Display and change to Desktop Programs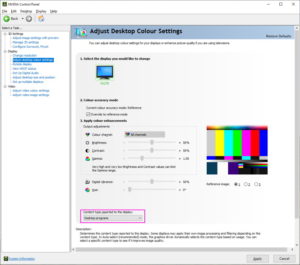 Once you've applied the settings, the screen will likely go black one more time and then hopefully the Black Screen from NVIDIA Control Panel issue will be fixed.
Hopefully this works for you as it has for me, please leave any feedback or questions in the comments.
Until next time!