SyncToy has saved the day when it comes to keeping my NAS drive up to date with OneDrive.  One of the most popular posts on this blog has been How to Sync a NAS Drive with OneDrive and since writing it and banging my head against the obvious limitations in the OneDrive client I've been using SyncToy for over a year now without a single issue.
Recap of Original Guide
In the original post – How to Sync a NAS Drive with OneDrive I did back in 2014, I covered the basics of what I was trying to achieve:
Sync N:\Data (My mapped NAS location) with OneDrive
Sync automatically and use real time updating, none of this task scheduler rubbish!
Ensure the Sync is a true two way process to capture any changes on
either the NAS or OneDrive
Costs nothing
The Home Network Topology remains the same: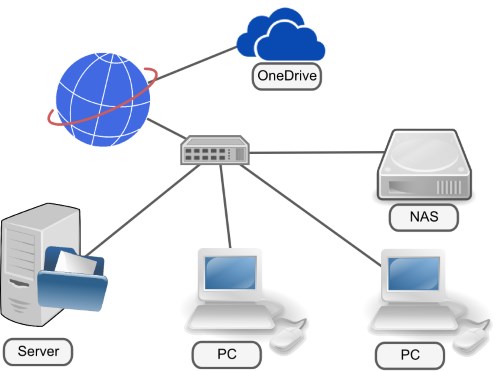 I am sorry to say that despite trying several solutions for this nothing gave me exactly what I needed without some level of compromise.  Every application that was installed eventually ended up with it's own issues.
I tried a number of alternative solutions including mapping VHD files and storing them on the NAS drive, other sync programs and even considered (only for a second mind you) looking at alternative cloud storage providers.
I finally decided to return to the objectives to see if any of them could be compromised in order to achieve a good outcome.
In the end I shortened the list down to the following two that were good candidates for compromise:
Sync automatically and use real time updating, none of this task scheduler rubbish!
Costs nothing
As much as I started to look at commercial offerings, it pained me that I'd be going to use a paid for product to make up for weaknesses in something that was free (unless you count the number of hours I've spent trying to fix this!).
Then I focused on the real time updating objective.  I asked myself was this something I really needed, or something that would just be nice to have.  As long as the process was automatic, I think I'd be fine.
So I took another look at the problem with this point being compromised and I took a look at SyncToy 2.1
Install and Configure SyncToy 2.1
The Setup of SyncToy was so straight forward, I see little point in covering the steps here in any amount of detail.  In summary all I did on Windows 10 was the following:
Download SyncToy
Install SyncToy
Setup SyncToy with a folder pair (C:\users\me\One Drive and N:\Data)
Run the fist Sync
Save the job as OneDriveSync
Create the following batch file:
@echo off
taskkill /f /im SyncToyCmd.exe
"C:\Program Files\SyncToy 2.1\SyncToyCmd.exe" -r OneDriveSync
exit
The taskkill line is introduced to kill any hung SyncToyCmd.exe processes.  I've witnessed SyncToy hang after completing a Sync before and this ensures any rogue processes are closed before the script runs again.
Setup a task schedule on the Server to run the batch file every 15 minutes
Pour a coffee and watch the solution just work
Summary
SyncToy 2.1 has been working flawlessly like this for over a year now and I'm very happy with the solution.  Yes it means that data can sometimes be 15 minutes old, but I haven't yet had this issue cause me a problem.
It would be worth testing to ensure your Sync can actually complete inside the 15 minute window, the last thing you want is the script running again before a sync can complete.  If it does take longer – you will need to adjust the frequency of the scheduled task to accommodate.
I can work on N:\Data from any of my network PCs and also when away from the office on OneDrive and within a maximum of 15 minutes everything is synchronised.  You could improve this even further by reducing the timing on the scheduled task but 15 minutes is fine for my needs.
This still does not remove the issue that providing the storage was suitable, there is no real reason the OneDrive client couldn't use a network drive as destination and completely remove the need for workarounds but for now, I'm happy.
Thank you for taking the time to read this update.  I'd love to hear how you guys are approaching this issue – feel free to share in the comments below.