Modern Warfare is currently suffering Cutscene Lag (amongst a few other issues!) accross a number of platforms. I found a fix to resolve the issue by simply tweaking graphics settings.
My machine specs are modest and are as follows:
Intel i5 8400
16GB Corsair Vengeance DDR4 RAM
MSI GeForce RTX 2060 Gaming Z 6 Graphics Card#
MSI Z370-A PRO Motherboard
Along with others, I noticed that specifically in Modern Warfare Campaign mode, the Cutscene's which play at the beginning / during the Campaign Missions were stuttering and lagging massively – to the point that it was detracting from what looks like an amazing single player experience. I've really enjoyed previous Modern Warfare Campaigns and didn't want to start this until the issues were resolved.
Many are claiming that this requires a patch and an update to Modern Warfare but I didn't want to wait that long so instead started experimenting with graphics settings.
The following graphics settings for Call of Duty: Modern Warfare have completely resolved the Cutscene Lag for me on PC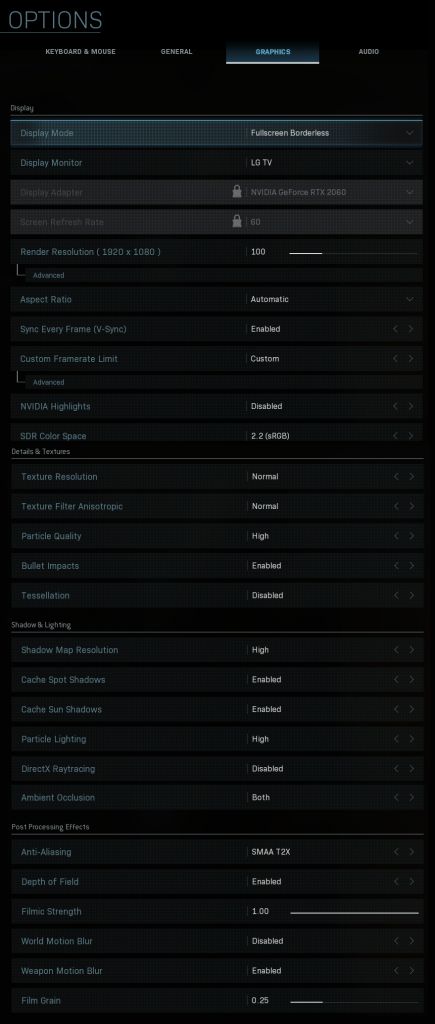 These settings whilst certainly not as high as my rig can go are providing excellent performance / visuals both in the game and most importantly the Cutscenes are not lagging at all.
Whilst I know this is a temporary fix until there is a Modern Warfare patch or update, it has at least allowed me to enjoy the campaign without issue.
Thank you for reading and hopefully this will work for you as it has for me, feel free to share your thoughts in the comments.