The Billion 7800N is a very highly rated ADSL2+ Router and for good reason. Although slightly more expensive than a number of home use routers the Billion 7800N comes packed with many enterprise quality features that make it stand out.
It's got N wireless with 3 removeable antenna, it supports a dual WAN connectivity that allow the use of both PPOE and PPOA connections and is incredibly stable. Sky Broadband insist that you use their routers and rightly or wrongly, this is not for debate here. It's part of their terms and conditions and if you don't like it, change provider. What I wanted to share with you is how I've managed to integrate my Billion 7800N into my home network, take advantage of it's features and all without breaking Sky Broadband's terms and conditions.
In summary then – I use the Sky Broadband provided Sagemcom F@ST 2504N as a front end ADSL modem that passes all the traffic onto the Billion 7800N at the heart of my home network.
Before we get into the configuration, I wanted to share a few words on the 'workarounds' several sources are suggesting to get around MER.
In simple terms, MER is a form of authentication that uses the MAC address of the Router to allow connection to the Internet Service Provider.  Not all Sky Broadband customers are currently running on MER – but the intention seems to be to roll this out nation wide.
MER in itself is not an issue to work with – as long as your router supports MAC Address Spoofing, you're able to make it appear to be another device (ie the one you're supposed to be using).  However, it would appear that Sky Broadband are using an additional step in ensuring that it's customers only use the provided modem – which is to use a custom DHCP configuration that will only lease IP addresses to it's own Routers.  Unfortunately, this means that if you don't play by the rules and you try some of the afore mentioned advice which is to start connecting your Sky router to get the IP address and then set it statically you're just asking for trouble.  DHCP allocates it's addresses by means of a Pool.  When an address is leased properly, the Pool is updated to ensure that the same address cannot be taken again.
The suggestions are that you just copy your old IP address and then use it until it stops working – then – reconnect your old router again, get a new lease and retry.  In one way, this will work.  You will get a connection and you can happily use your shiny new Router.  However what they probably don't understand is that this breaks one of the main principles of DHCP and you're basically taking assigned addresses from the Pool and trying to use them as static addresses.  This will lead to IP address conflicts where two addresses are the same and both devices (or customers) will become unable to use the Internet.
My advice?  As stated before – if you're not happy with Sky Broadband's T's and C's, change provider otherwise stick to using the Router that they provide and if you want to make use of another router as well, use it downstream.
Now, onto a method of using your Sky Router as just an ADSL modem and allowing your Billion 7800N to do everything else such as Wireless, DHCP, DNS and Firewalling.
The first thing you'll need to do is plan your IP address structure.  I'm going to use sample addressing here – which should work for most – but if they don't, feel free to post a comment and ask for help.
We're using the following IP addresses:
WAN address of Sagemcom F@ST 2504N – Dynamically assigned by Sky
LAN address of Sagemcom F@ST 2504N – 192.168.0.1 / 255.255.255.0
WAN address of Billion 7800N – 192.168.0.2
LAN address of Billion 7800N – 192.168.1.1
From a physical connection point of view, we do the following:
Connect the Sagemcom F@ST 2504N to the ADSL connection
Run a CAT5 patch cable between Port1 on the Sagemcom F@ST 2504N to the EWAN port on the Billion 7800N.  Ideally you should use a crossover cable, but a normal cable seems to work due to one or both of the routers supporting auto sensing.
Connect all other devices either wired or wireless into the Billion 7800N
So first, the settings for the Sagemcom F@ST 2504N:
Wireless Settings (We disable all Wifi so that the Billion can handle)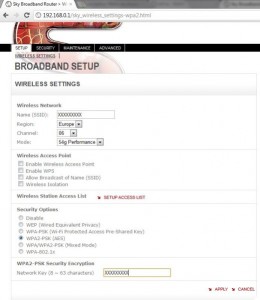 WAN Settings (We setup a default DMZ address and point it to the WAN address of the Billion 7800N)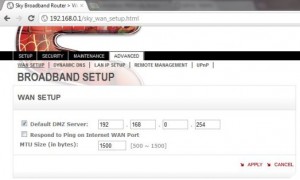 UPNP Settings (As we're using a DMZ address which pushes all traffic to the Billion 7800N, we disable UPNP on the Sagemcom F@ST 2504N)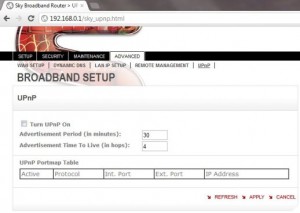 We now need to make changes to the Billion 7800N:
LAN > Ethernet (We start by ensuring the LAN settings are correct)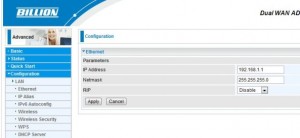 WAN > WAN Profile (We need to create a new Profile that's based on the EWAN port.  As you can see, we use the Sagemcom F@ST 2504N LAN IP address for the Gateway and DNS server.)

WAN > Interface (We then need to select EWAN from the Main Port dropdown)

You then configure the rest of the Billion 7800N how you would normally – if you need any help with Wifi, DHCP or general settings, let me know in the comments.
Once this is complete and both devices have been restarted you will find that you can now use the exciting features of the Billion 7800N for your Home Network whilst retaining the Sky Broadband provided Sagemcom F@ST 2504N and remaining within the terms and conditions.
Essentially the Sky Broadband Sagemcom F@ST 2504N is used as a simple ADSL modem that passes all traffic to the Billion 7800N.  The Billion 7800N is for all intent and purpose your Router but instead of connecting direct to the Internet – it passes all outbound traffic through the Sky Router.
In my opinion – everyone wins.
I hope you have enjoyed this article and please feel free to post any questions or suggestions of your own in the comments.