Ripping Blu-ray movies into iTunes still carries a lot of debate around the legalities of taking content you own and changing the format for digital streaming.  This guide will leave the moral dilemma to you but will give you the information necessary for ripping Blu-ray collections into iTunes using MakeMKV, HandBrake and MetaX so that you can watch them on your Apple TV.  I don't recall the last time I actually purchased a Blu-ray and nowadays always purchase digital content but I do have a number of older Blu-rays that I'm still deciding whether to rip into iTunes.  I'll walk through the import of one of those Blu-rays today as an example.
Output File
When we are finished, the output file that goes into iTunes will have the following characteristics:
Nicely tagged with meta data and cover art to look the part in iTunes.
Two audio tracks that are AppleTV compatible.  One is for digital audio that will work for home cinema equipment, the other will be a stereo channel that will work for everything else.
Only the foreign audio subtitle track will be included and will be burned into the movie.  This will mean that any subtitles you would normally see if the language used in the film is foreign (for example think when people are talking Elvish in Lord of the Rings) will be included automatically.
No other subtitle tracks will be included.  Lets face it, if you're using this for your own purposes – why would you need a German subtitle track?
Tools Needed
To follow this guide, you will need the following tools:
Process for using HandBrake to Convert Your Blu-rays for Apple TV
The process is straight forward.
Rip the Blu-ray using MakeMKV
Check Subscene website for Foreign Audio Subtitles
Use HandBrake to encode the video
Use MetaX to update the video
Import into iTunes
1. Ripping Blu-ray Movies using MakeMKV
MakeMKV is still in Beta and appears to have been for quite a long time.  You can still license it for trial, that appears to keep renewing.  You can get the license information from their official license thread.  Eventually the Beta will end and it will become a commercial product but if you're making use of it – it's likely money well spent.
MakeMKV is capable of ripping selected parts of a Blu-ray into an MKV file that can then be used by other tools to encode the video into the right format.  MakeMKV doesn't do any re-encoding or compressing of the file so you are likely to end up with a 20-30GB file when you're done.
Firstly, we launch MKV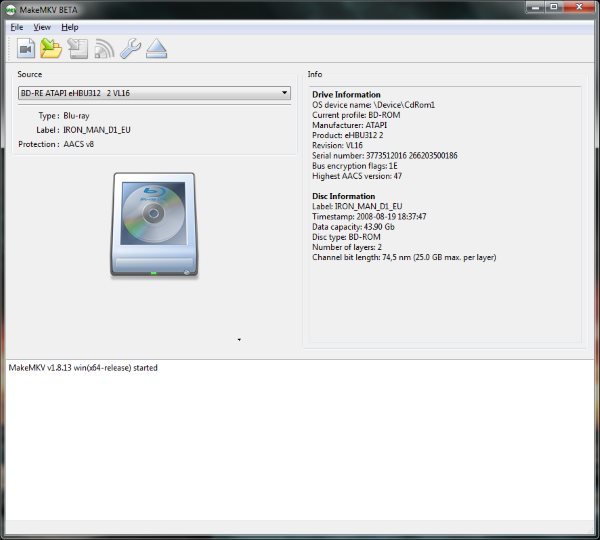 We then click on the Blu-ray player image and MakeMKV will analyse the Blu-ray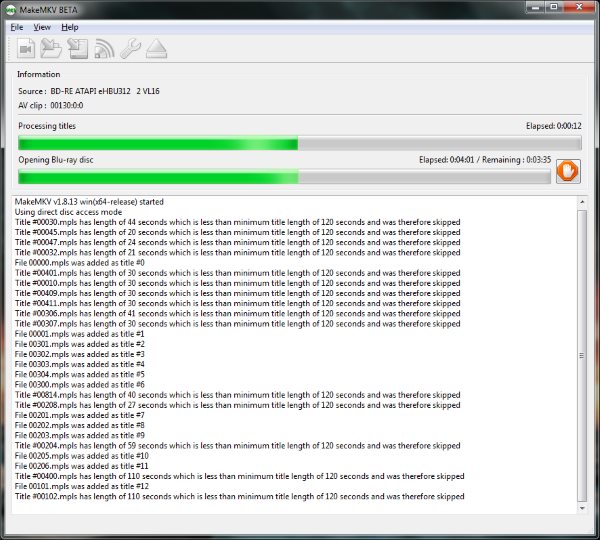 Once the Blu-ray has been analysed, we are then presented with a list of the titles that have been discovered.  Experience will come in to play here to find the right track, but it will typically be the biggest track.  Begin by right clicking and selecting Unselect All.  Then tick the box of the appropriate track.
Ensure that the title, the main audio and all English (assuming you're English of course!) tracks are selected, ensure you've got an appropriate output folder set and press the Make MKV icon in the top right.  MakeMKV will then start to write the information from your Blu-ray onto your hard drive in a non encrypted format that HandBrake can work with.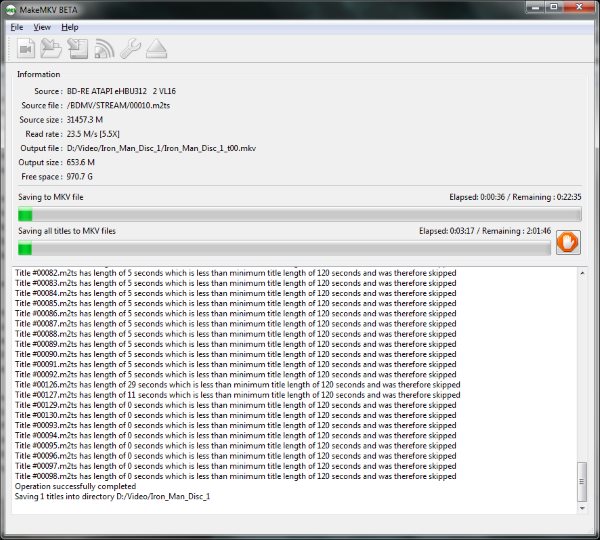 The time it takes to complete the ripping of the Blu-ray will vary depending on your PC and Blu-ray player, as you can see here – for my selected Blu-ray this process is going to take around 23 minutes.
2. Check Subscene Website for Foreign Audio Subtitles
Getting the subtitles right when ripping Blu-ray movies is probably one of the hardest parts of the process. While you are waiting for the rip to complete, visit Subscene and do a search for your movie.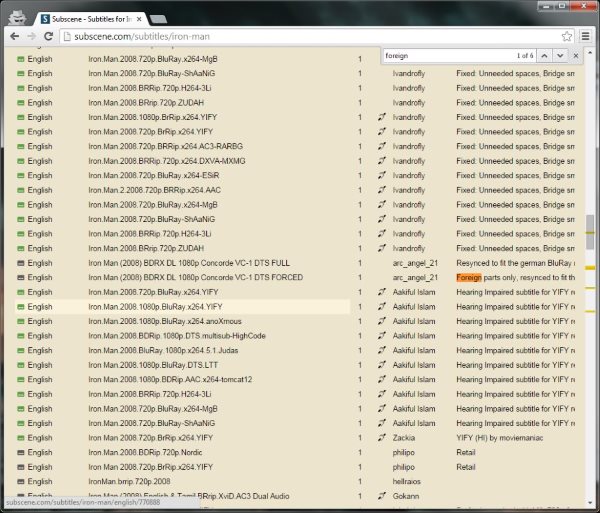 Once you bring up the results, use your browser to do a search for the word Foreign.  As you can see here, the movie I've selected has a foreign audio subtitle track.  Once MakeMKV has finished, you simply have to work out which track includes the Foreign Audio.  There are many ways to do this – one of which would be to download one of the subtitle files from Subscene and open it in a text editor to find where the subtitles occur.  Then use a something VLC Media Player to open the MKV file you've created, view the time in the movie that is shown in the subtitle file you've downloaded and then by using the media player to enable the subtitle tracks one at a time – work out which track you need.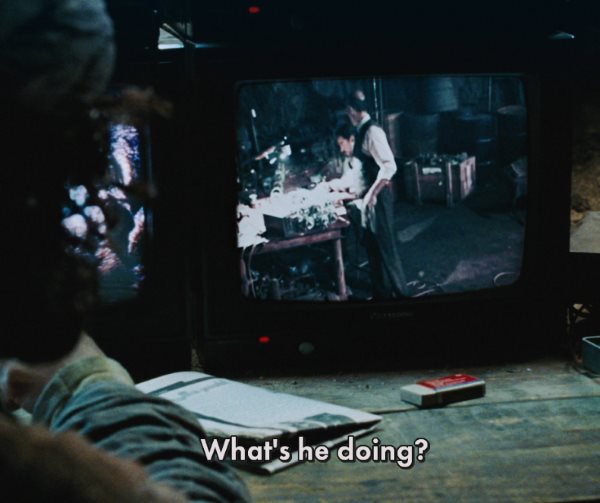 Using this method, I was able to understand that the first foreign subtitle happens at 00:24:19 and contains the text "What's he doing?".  By opening the file in VLC Media player, I can then work out the subtitle track I require is track number 3.  Subtitles can be a tricky area to get your head around, to help we recently wrote a guide on How to Burn in Subtitles using Handbrake which may also be useful.
3. Use HandBrake to encode the video
Ripping Blu-ray movies takes time, but once MakeMKV has completed we can use HandBrake to encode the video so iTunes and Apple TV like it.  Start by opening HandBrake.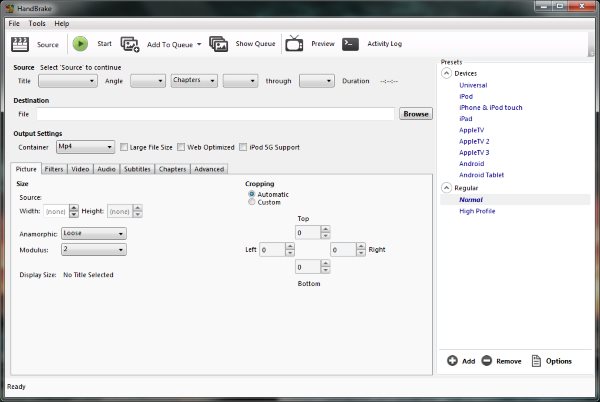 Then click on Source > Open File, browse for your MKV file and click Open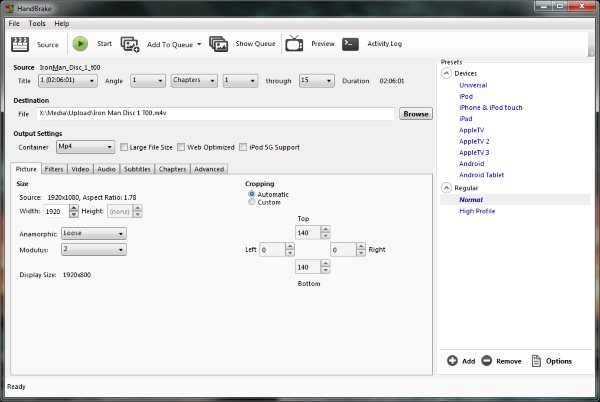 Now select which AppleTV format you would prefer from the Presets area on the right.  There are only 2 to really consider.  AppleTV 2 (720p) and AppleTV 3 (1080p).  I'm going to go with AppleTV 2 as I'm happy with the quality trade off between 720p and 1080p versus the smaller file size.  Click on the Subtitles tab where you will see all of the subtitle tracks you ripped from the Blu-ray.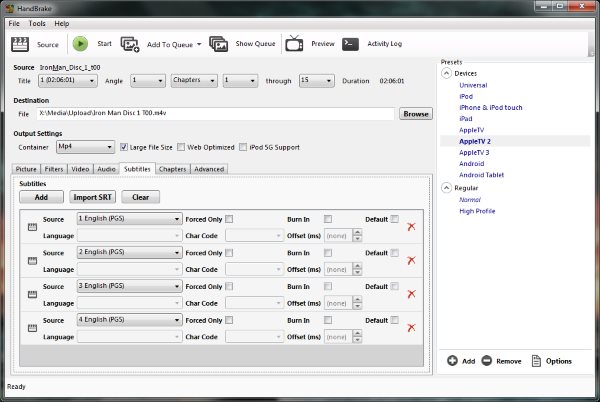 Because I know that the only one I want is track 3, I can delete the rest and tick the Burn In option for track 3.  This will ensure that the subtitle track is included with the video file and made mandatory.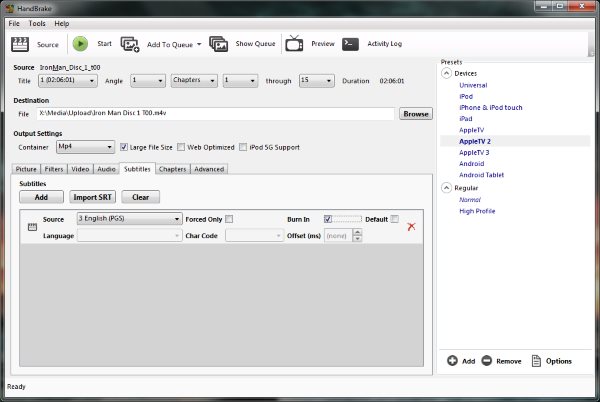 As a final check, click on the Audio tab and confirm that the Apple preset has created two audio tracks – this is a defining quality of HandBrake and how it seemlessly works with Apple TV.  Without the second track you will run into problems playing audio over home cinema equipment.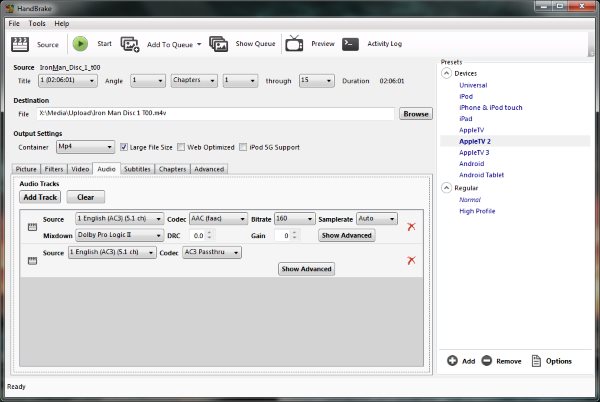 The last thing to do is press the big green Start button.  Encoding times will vary hugely depending on your PC specs and your chosen profile.  As you can see, this movie is going to take about 46 minutes to encode using the Apple TV 2 preset.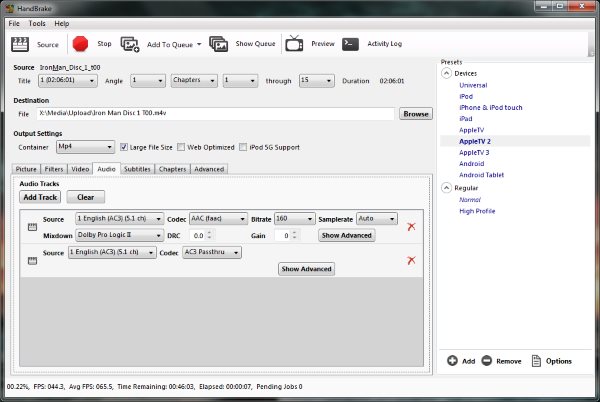 And now we wait.  Once the encode is complete you will have an M4V file that is ready to be tagged and imported into iTunes.
4. Use MetaX to update the video
There are free tools available to Mac users to tag video files ready for iTunes and I'm probably guessing there are some free workarounds for doing it on Windows but MetaX is an incredible tool that costs next to nothing.  I've used it for a long time for tagging home movies and creating artwork for them in iTunes but it's also very useful for tagging your newly created M4V.  You can import the file right now into iTunes if you want, but you will not get cover art or movie information and will instead have to update the detail in iTunes – which I don't think permanently updates the video file.
To start with, open MetaX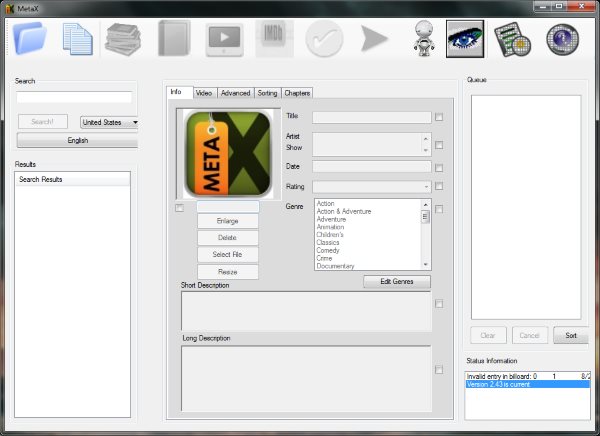 Click the Open File button in the top right, browse for your M4V file and click Open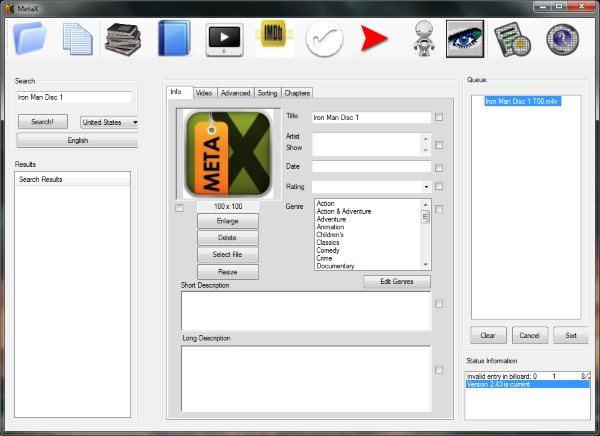 Click in the Search box at the top left of the window.  Tidy up the title so it's the name of the film you are wanting to tag. Then hit Search!.  Depending what sources you have setup in MetaX you will get a list of matches.  Simply click through them until you find the one you're looking for.  Notice how it includes information such as artwork, genre and description – all of this will be used by iTunes.
Click on the Video tab and change the HD tab to either 720p or 1080p depedning on which preset you used.  When everything looks right, press the big red arrow to write the changes into the file.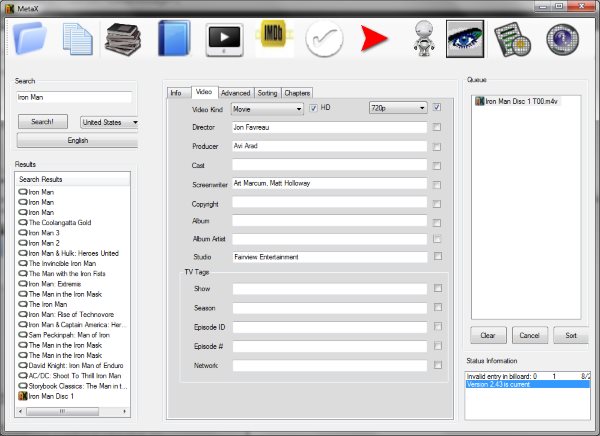 The file will now be updated with your new meta data and is ready to be imported into iTunes.
5. Import into iTunes
The iTunes part is easy.  Simply navigate to your iTunes Media folder.

Copy the M4V file into the Automatically Add to iTunes folder.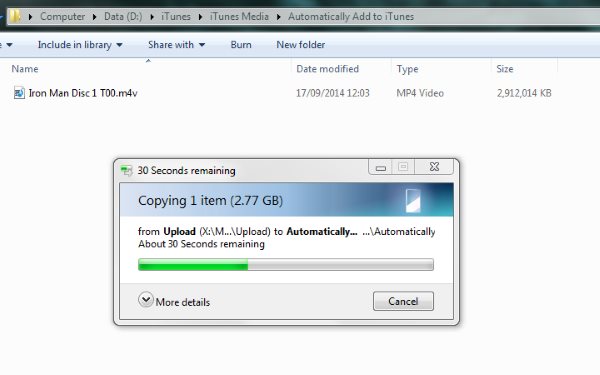 And then open iTunes to watch the magic take place.  iTunes will not only use the meta data for display purposes, but it will use it for helping organise your media folder.  It will create an appropriate folder structure and rename the video file to keep things tidy.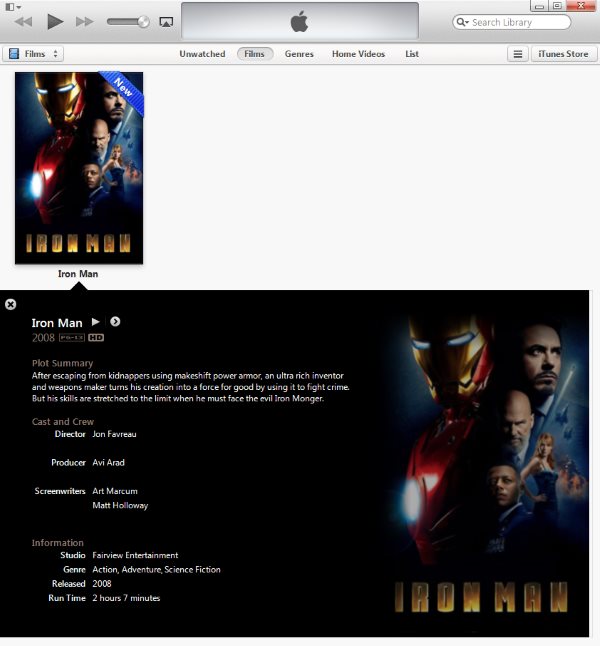 Conclusion
So there you have it, ripping Blu-ray movies and import them into iTunes so they will play beautifully on your Apple TV.  You should now be able to connect to iTunes using the built in Home Network Sharing and stream.
I hope you've found this article useful and I'd love to hear from you in the comments.
If you like this guide, we've previously added a guide for Using HandBrake to Burn in Subtitles from MKV to MP4 for Apple TV